Sub Committees on Re-Entry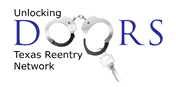 Founded in 2010, the Unlocking DOORS Texas Reentry Network (Unlocking DOORS, Inc. dba DOORS) ("Unlocking DOORS") is a comprehensive statewide diversion, reentry and integration "brokerage network" that is committed to reducing crime and the ever-escalating fiscal impact to the State of Texas and its communities through coordinated collaboration, partnership, public awareness, reporting of evidence-based analytics and predictive trends, education, and training.
Unlocking DOORS, through its unique and unduplicated "Reentry Brokerage/Predictive Trends" Model, reduces crime by guiding those with criminal backgrounds to a future of self-sufficiency that is crime-free. By collaborating and coordinating with numerous "brokered" partners and providers statewide (133 to date), Unlocking DOORS pulls together all resources, organizations, and programs into one coordinated effort, allowing for cross-networking, collaboration, cohesion and a stronger service model for those with criminal backgrounds. Whether it be assisting in the diversion of qualifying individuals to a community program versus incarceration; filling a gap between pre-release and post-release services for those individuals releasing from incarceration; or educating the public and community service providers as to the specific needs and issues surrounding this very unique and growing population; we feel certain that initial crime and overall repeat crime (recidivism) rates will be cut drastically, thereby creating a safer community for us all, while leaving our tax base intact.
Unlocking DOORS seeks to reduce recidivism rates among the clients served via the Unlocking DOORS unique service model, when compared to a similar cohort group of previously incarcerated people who have not utilized the Unlocking DOORS program upon their reentry into the community. The goal of Unlocking DOORS is to achieve at least a 20% decrease in repeat crimes (recidivism) among clients, which translates to no more than 26% of clients reoffending (compared to the current recidivism rate of 32%) within a three-year period following release. This is accomplished by providing the following:
COMPREHENSIVE PRE/POST-RELEASE REENTRY BROKERAGE:
For individuals 18 years of age or older with a criminal background (does not have to have an incarceration history; simply a criminal record)
Reentry Brokerage consists of the following:
Comprehensive risk/needs assessment (four [4] separate assessment tools are used to determine the client's risk for reoffending, specific needs, achieved training and work history, education level, eligible benefits, etc.):
Individualized Reentry Brokerage Plan compiled by the client's Unlocking DOORS' Client Broker from all information gained during the client's assessment; the plan is "individualized" to the client's specific needs;
Referrals to one or more of Unlocking DOORS' Community Partners/Providers and other service providers/resources (the experts in specific services and resources) to assist the client in working through the specific items addressed in his/her Individualized Reentry Brokerage Plan (see NOTE below); and
Monitoring of the client's achievements, successes or failures as he or she works through his/her Individualized Reentry Brokerage Plan via the Unlocking DOORS' Texas Reentry Analytic Client Evaluator (TRACE) Client Database
ANALYTIC REPORTING OF EVIDENCE-BASED ANALYTICS AND PREDICTIVE TRENDS:

Reporting of Unlocking DOORS' wealth of collected and compiled client data, formatted and analyzed so as to illustrate and note predictive trends in the criminal justice arena that will assist all stakeholders in determining smart and effective funding, policies and legislation.
COMMUNITY COLLABORATION, EDUCATION AND SUPPORT:
For any and all stakeholders, including, but not limited to: the general public; community/state/federal partners/providers, agencies and organizations; other service providers and resources; criminal justice professionals (including those in corrections, social worker, law enforcement and attorneys); victims of crime; offender family members; etc. Includes, but is not limited to, the following:
Annual Texas Reentry Symposium
Public Awareness Events – Examples: "Evening with Piper Kerman, Author of Orange is the New Black; shopping events (Chico's; Soma; St. John Boutique; Denim & Soul)
Community Speaking Requests for any and all organizations interested in criminal justice and reentry
Unlocking DOORS' Partner/Provider Meetings (held at least 3 times a year) to collaborate, network, train and determine best-practices and next steps in moving forward
Unlocking DOORS Auxiliary – for $30 annually or a one-time payment of $300 (Lifetime Membership), members assist Unlocking DOORS with the Annual Texas Reentry Symposium, Public Awareness Events, securing monetary and in-kind donations from individuals, vendors, patrons and businesses.