Library Services Facts History
Services:
The Law Library provides reference, Westlaw, Lexis, Wi-Fi, internet, printing, copying, and fax services.
Library Staff may provide guidance to patrons in their legal research. Please note, Library staff may not perform legal research on behalf of patrons. Additionally, Library staff may not participate in the unauthorized practice of law; therefore, staff may not give legal opinions, advice, interpretations, or comment upon your specific legal matters.
Texas Law Collection
This comprehensive collection is both current and historical in nature. It consists of primary and secondary sources with a strong emphasis on the practitioner. Secondary materials include general practice guides, subject specific guides, and form books.
Attorney Workrooms & Conference Area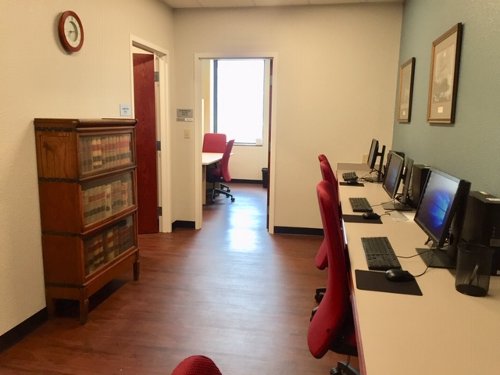 The attorney workrooms are available for use by members of the State Bar of Texas and include computers with internet access, a scanner, printing services, and telephones.
Attorney Conference Room
The attorney conference room is available for private client meetings. Please inquire at the information desk, if you need to reserve the room in advance.
A valid Texas State Bar card is required for admittance to both the attorney workrooms and conference room.
Facts:
The Law Library operates under the authority of the Texas Local Government Code, Section 323.021 with the authority of the Dallas County Commissioners' Court. The Library Committee of the Dallas Bar Association acts as an advisory board to the Dallas County Commissioners' Court.
Income for the Law Library is derived from a portion of the filing fees charged in Civil cases. In addition to the proceeds from filing fees, nominal funds are received through photocopies, faxes, and overdue fines. The Dallas County Law Library does not receive tax revenue.
The Library is located in the George L. Allen, Sr. Courts Building, 7th floor, Suite 760, at 600 Commerce Street, Dallas, Texas 75202.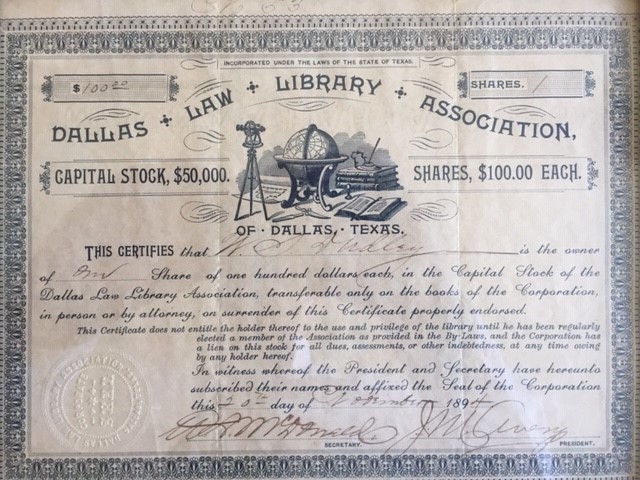 History:
The Law Library was established as early as 1894 as the Dallas Law Library Association with J.M. Avery as President and W.A. McDonald as Secretary. The Library's original location was under the staircase in the Old Red Courthouse.
Rare Books / Archives Collection:
The Library has an extensive collection of early Texas code materials, including pre-Republic, Republic of Texas, and statehood. The Library has most Texas state code volumes from beginning to current day, with the exception of 1973 -1982. The Library also has Vernon's pocket parts from 1983 - current.