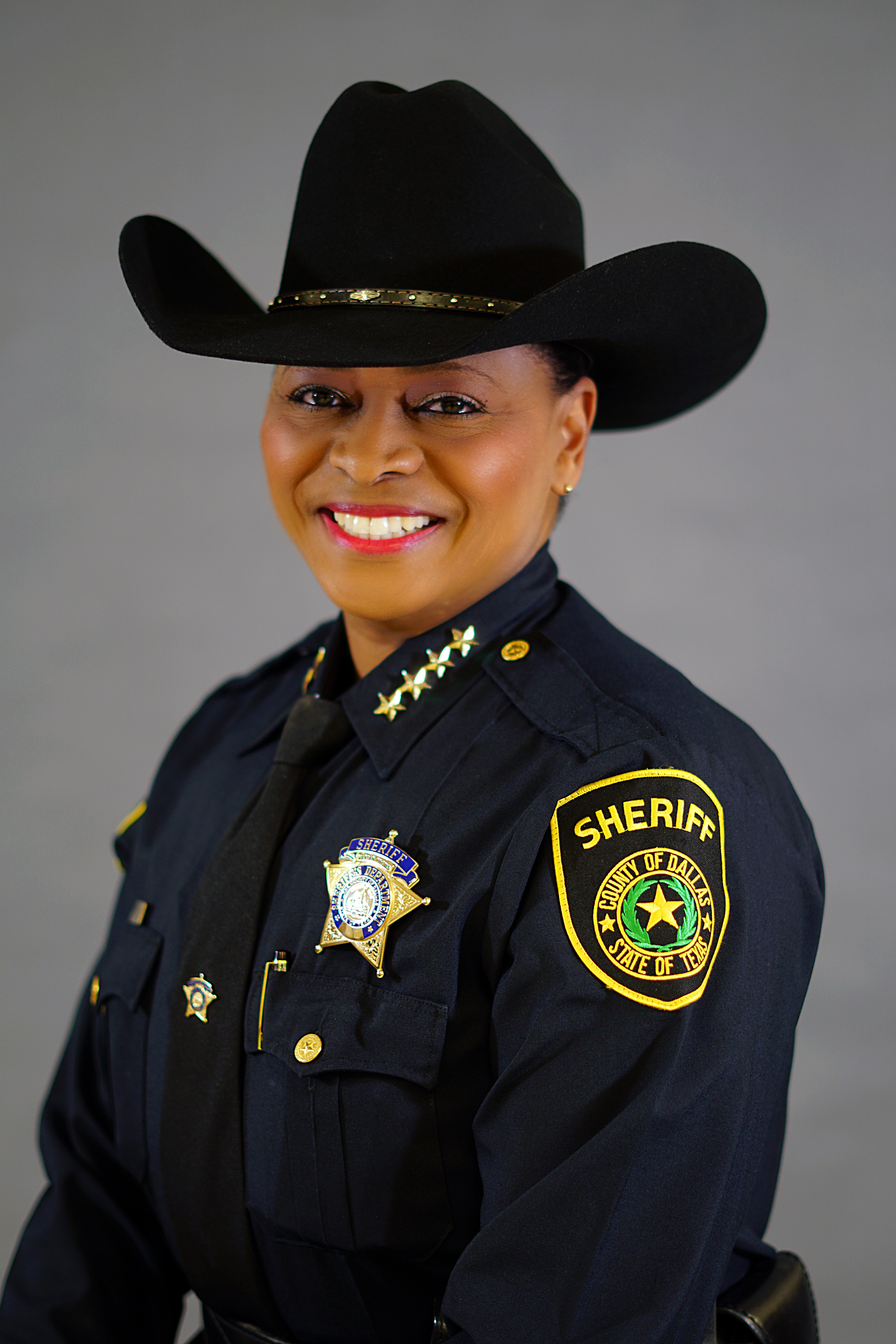 Sheriff Marian Brown was sworn in as Sheriff of Dallas County on January 1, 2019. Sheriff Brown is the first African-American Sheriff in Dallas County and one of only three African-American female sheriffs in the United States.
Sheriff Brown began her career in law enforcement in 1988 with the Duncanville Police Department. She was a pioneer, in that she was the first African-American female hired by the Duncanville Police Department.
She quickly ascended in rank, promoting to the rank of sergeant in 1993. While in that rank, she served as first-line supervisor in the Patrol Division. In 1995, she was assigned to the Community Relations/Crime Prevention Division, where was tasked with creating a Community Oriented Policing Task Force. Through this unit, she formulated such programs as Citizens on Patrol and Duncanville Police Beat, a weekly information program hosted by Brown and broadcast on local cable. Other programs managed by Brown included, Citizens Police Academy; Seniors and Law Enforcement Together (SALT); Hand-in-Hand and Success Through Accepting Responsibility or STAR Program, (a school-district-wide character education program implemented in ten elementary schools, three intermediate schools and two junior highs. Each school had an assigned officer to interact with students and emphasize the character trait each week.)
Sheriff Brown is known throughout the law enforcement community for her role as law enforcement trainer/anchor on the Law Enforcement Television Network (LETN), an international law enforcement satellite network based in Carrollton, Texas. Sheriff Brown worked with LETN for ten years, while continuing her service with the Duncanville Police Department.
In 1997, Brown promoted to the rank of Lieutenant. She continued to work in the arena of community relations, but eventually returned to the Patrol Division to serve as commander.
In 2005, she was assigned to command the Criminal Investigations Division. There, she served until 2007 when she was named to the position of Assistant Chief of Police. She served as Assistant Chief until 2014, when she retired and joined the Dallas County Sheriff's Department to serve as Chief Deputy in charge of General Services.
Bachelors of Arts Degree — University of Texas at Arlington
Master Peace Officer Certification
Graduate of the International Law Enforcement Institute's Management College
Graduate of the FBI National Academy Associates Command College