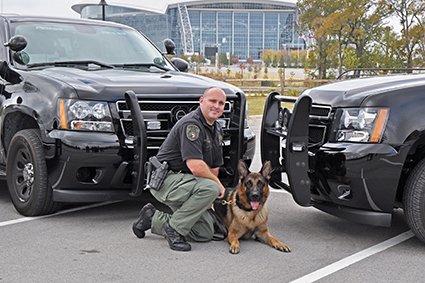 The Dallas County Sheriff's Department has two drug detecting Czechoslovakian german shepherds named Diuk and Daffy.They are the sheriff department's latest weapon against the war on drugs. Funded with federal seizure money, this unit is self supporting at no cost to the tax payers of Dallas County.
Trained in El Paso by the U.S. Border Patrol, each K-9 has ten weeks of training and five weeks of training with their deputies. These well trained canines have hit on everything from a truck load of marijuana to minute amounts of cocaine residue.
From the unit's inception in June 2008 to April 2010, the Drug Interdiction Unit has intercepted 260 lbs. of marijuana, 184 lbs. of cocaine, 7 grams of heroin, 55.2 lbs. of methamphetamines, 31 grams of crack cocaine, 58 grams of ecstasy and $841,657.00 of drug money.
Diuk and Daffy have been recognized for their stellar performance throughout the metroplex. Many local law enforcement agencies have called on their drug sniffing abilities. Arlington, Dallas, Grand Prairie, Red Oak, Ferris, Desoto, Glen Heights, Lancaster, Wilmer, Hutchins, Mesquite, Forney, Seagoville, the Department of Public Safety, Immigration & Customs Enforcement, the Drug Enforcement Agency, the Internal Revenue Service, the Federal Bureau of Investigations and the Federal Bureau of Prisons have all utilized Duik and Daffy with high degree of success.
Deputies Trout and Evans, who are the K-9s handlers, have over 30 years of law enforcement experience. The partnership with Diuk and Daffy makes them a team that will have an enormous impact on the nations drug traffic trade.