Heritage Trail
City of Mesquite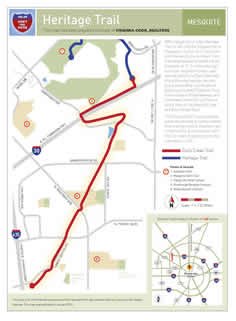 With a length of 4.4 miles, the Heritage Trail is not only the longest trail in Mesquite, but since it connects with Garland's Duck Creek Trail, it enables people to travel a total distance of 11.1 miles through multiple neighborhoods, past several schools, to Town East Mall.
Along the way, people can enjoy decorative trail heads at Americana Lane/Chisholm Trail, Green Canyon Drive/Galloway, and Northwest Drive/Via La Paloma and a view of the beautiful lake at Palos Verdes Park.
The City and the County are also presently working to further extend this trail by almost another two miles so that it will connect with the 3.6 miles of existing trail that are west of I-635.