Katy Trail
City of Dallas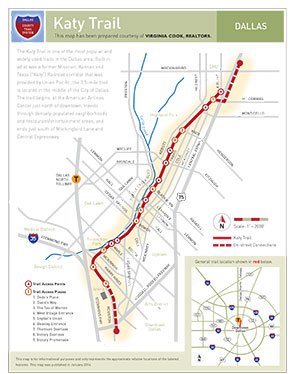 The Katy Trail is one of the most popular and intensely-supported trails in the Dallas area. Built in what was a former Misssouri, Kansas, and Texas ("Katy") Railroad corridor that was provided by Union Pacific, the 3.5-mile trail always has runners, walkers, baby stroller-pushers, cyclists, and roller-bladers.
Located in the middle of the City of Dallas, the trail begins at the American Airline Center just north of downtown, travels through densely-populated neighborhoods and restaurant/ entertainment areas, and ends just south of Mockingbird Lane and Central Expressway.
The trail, which helps creates one of the most unique urban-living experiences in North Texas, features rest areas, separate jogging paths, and one-of-a-kind views of Dallas from its many overpasses.
Design work is currently underway to extend the trail, which has been built with funding providing by Dallas County, the City of Dallas, TxDOT, and many private entities and individuals, another three miles to the east beyond Central Expressway so that it can connect with both the Mockingbird and White Rock DART stations.