Preston Ridge Trail
City of Dallas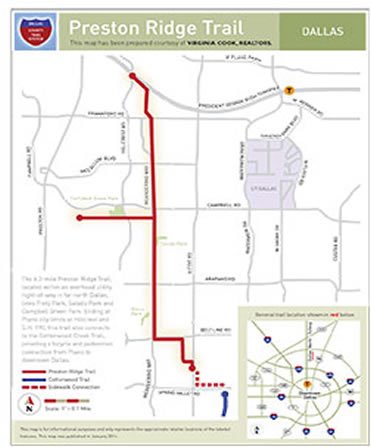 Preston Ridge Trail has magically transformed 5.8 miles of Oncor-provided electrical right-of-way into a widely-used and nicely-landscaped trail corridor.
Beginning where Hillcrest and George Bush Freeway intersect (which is also the boundary between Dallas and Plano), the twelve-foot trail extends south-ward along Meandering Way to Beltline Road where it travels briefly to the east before resuming its southern path and ending near Spring Valley Road (new eight-foot-wide sidewalks built by the City of Richardson along Coit Road at Haymeadow and Spring Valley now provide an almost seamless connection between this trail and the Cottonwood Trail).
Funded by Dallas County and the City of Dallas, Preston Ridge connects with numerous schools and parks and includes an east-west extension that begins at Arbor Oaks and ends at Davenport. It has also been the beneficiary of tremendous community support which has lead to the planting of over 1000 shrubs, bushes, and trees and the construction of rest areas and entrance features.
Preston Ridge establishes a key component in the County trail system so that it is now possible to travel from the County's northern border to the edge of downtown Dallas without a car, and it clearly illustrates what can happen when everyone works together.