Santa Fe Trail
City of Dallas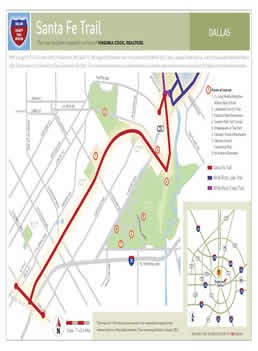 With a length of 5.3 miles, the Santa Fe Trail extends the continuous trail corridor that begins in far northern Dallas with the Preston Ridge Trail so that the corridor now ends at the doorstep of downtown Dallas--a distance of over 20 miles.
Built with funding provided by the City of Dallas, Dallas County, and TxDOT and utilizing a former Santa Fe railroad corridor that was provided by DART, the twelve-foot-wide trail begins at Winstead near the southern tip of White Rock Lake, crosses Grand Avenue, and continues past Woodrow Wilson High School to Hill Street in Deep Ellum. The trail connects numerous neighborhoods, apartment communities, and restaurants and provides patrons with many unique views of Dallas. It has also become a popular site for 5k races, and in 2016, it will once again serve as a part of the course for the Dallas Marathon.
New connections at both ends of the trail further extend the trail and make accessing it more convenient. One set of connections at the trail's south end ties the trail to both the Fair Park area and Deep Ellum and to their DART stations. The other connection at the trail's north end allows the public to quickly access the trail from Gaston before it turns into Grand Avenue/Garland Road.