Dallas County: a 21st Century Mosaic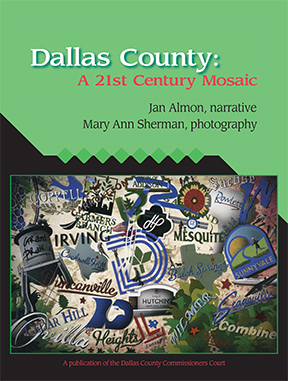 Historically, Dallas County has always been an area where many seemingly unrelated features have come together to produce something remarkable and unexpected.
Even before man arrived, it was where the prairie met a limestone escarpment and where the East Fork and the West Fork joined to create the main stem of the longest wholly-contained river in Texas.
Now, centuries later, Dallas County is no different. It is where people of all ages, backgrounds, nationalities, and faiths live and work together. One-fourth of its population is foreign-born, and it is regarded as being one of the most advantageous locations for both retirees and college graduates.
Its 900 square miles are crisscrossed by four interstate highways, over 100 miles of hard surface trails, and a light rail system that is larger than those in Philadelphia or Boston. DFW Airport, with over 600,000 flights and 58 million passengers a year, is the eighth busiest in the entire world.
This intersection and merging of forces continue to give the County a unique vibrancy. It is the home to thirty cities, a population of almost 2.5 million, and the fourth-largest concentration of Fortune 500 corporate headquarters in the country.
It is where the Slurpee, the integrated circuit, the single-chip microcomputer, and Liquid Paper were invented. It is where Hall of Fame baseball player Ernie Banks, golfer Lee Trevino, Bugs Bunny creator Tex Avery, playwright Preston Jones, journalist James Lehrer, track star Michael Johnson, and musicians T-Bone Walker, Norah Jones, Stevie Ray Vaughn, Edie Brickell, and Boz Scaggs were either born, raised, or developed their skills. It is where Nobel Prize-winning scientists have taught and conducted their research in medicine, genetics, physics, and chemistry.
What Dallas County thus resembles is not as much as a busy metropolitan area as a wonderful economic mosaic of people, colors, and energy. To celebrate this vibrancy, Dallas County has commissioned a special book. Published in 2014, Dallas County: A 21st Century Mosaic features a forward by football legend Roger Staubach, striking photographs, and a description of the many unique elements that enable Dallas County to be Dallas County.
DALLAS COUNTY COMMISSIONERS COURT
Clay Jenkins, County Judge
Dr. Theresa Daniel, District 1
Mike Cantrell, District 2
John Wiley Price, District 3
Dr. Elba Garcia, District 4

To download a copy of the book, please click on a link below:

Dallas County: A 21st Century Mosaic - English

Dallas County: A 21st Century Mosaic - En Español