Skyline Trail
City of Dallas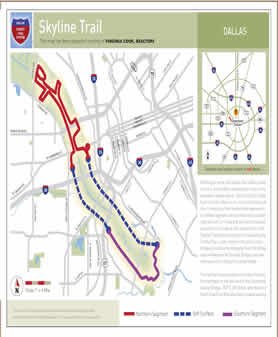 Befitting its name, the Skyline Trail offers cyclists, runners, and walkers spectacular views of the downtown Dallas skyline. But this City of Dallas-built trail also offers much more than just this.
Consisting of two hard-surface segments--a northern segment with 4.6 miles and a southern segment with 2.1 miles that are then connected by another 3.6 miles of soft-surface trail--the Skyline Trail allows the public to travel along the Trinity River, under some of Dallas' major bridges (including the Margaret Hunt Hill Bridge and the Margaret McDermott Bridge), and over what was once a Santa Fe railroad bridge.
The trail can be accessed at a number of points, but trailheads at the west end of the Continental Avenue Bridge, at the end of South Riverfront Boulevard, and at 1837 E. 8th Street also feature paved parking.