Records Building - 500 Elm Street, Suite 4400, Dallas, TX 75202
(214) 653-7321 • Fax: (214) 653-7705 • 8:00 A.M. - 4:30 P.M., Monday - Friday
Se Habla Español
---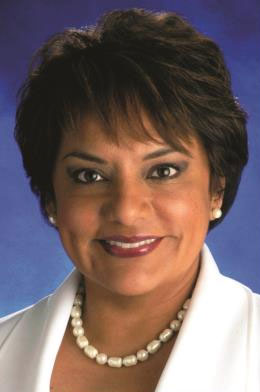 Pauline Medrano was re-elected Dallas County Treasurer in November 2018, and sworn into office on January 1, 2019. Ms. Medrano has been Dallas County Treasurer since January 1, 2015. Ms. Medrano brings over 10 years of administrative experience in State and Federal government and 10 years in corporate management.
Pauline Medrano was elected to the Dallas City Council in June of 2005, and re-elected in 2007, 2009, 2011. Ms. Medrano served as Deputy Mayor Pro Tem from 2009-2011 and as Mayor Pro Tem from 2011-2013.
While on the city council Ms. Medrano served as Chair of the Public Safety Committee, Vice Chair Dallas Conventions & Visitors Bureau, Vice Chair of the Quality of Life Committee, Transportation Committee, Housing Committee, Dallas Downtown Inc. and Chaired several Ad HOC committees.
Pauline Medrano was appointed as Vice Chair of the US Census 2010 Advisory Committee by former US Secretary of Commerce, Gary Locke. And, currently serves as Vice Chair of the City of Dallas Complete Count Committee appointed by the Mayor.
Ms. Medrano is the immediate past President of the National Association of Latino Elected and Appointed Officials (NALEO).
Pauline Medrano is a Dallas County native, raised in the Oak Lawn area of Dallas, and a graduate of Skyline High School. Ms. Medrano earned a Bachelor of Arts degree in Political Science from the University of Texas at Arlington. She is a member of the Oak Cliff Lions Club and the Esperanza "Hope" Medrano elementary school Board of Friends. She is on the Board of Directors for the Dallas Children's Theater and the NALEO Educational Fund Board.
Active in the community, Ms. Medrano has had a life of service and continues down that path as County Treasurer.
As County Treasurer, Pauline Medrano Chairs the County Financial Review Committee, serves on the County Bail Bond Board, and on the Employee Benefits Committee. She is a member of the County Investment Academy with the Texas Association of Counties, and the County Treasurers Association of Texas.
The County Treasurer's Office serves as the chief custodian of county finances; responsible for receiving and accounting for all county funds in the county depository bank and paying, applying or disbursing all county funds in such a manner as directed by Commissioners Court and in conformance with law.
Ms. Medrano is committed to the highest level of customer service, transparency, efficiency and accountability to our county government.