General Passport Information
Dallas County Passport Acceptance Offices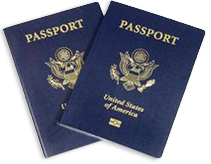 Hours of Operation at ALL locations: Monday through Friday, 8:30am to 4:00pm
Please Note: The cut-off for applications is 4:00pm daily
No appointment necessary - first come, first serve.
---
IMPORTANT:
State Department Issues New Requirments for Proof of Citizenship:
A photo copy of your proof of citizenship will now be required by the State Department, in addition to the actual original proof of citizenship itself. If the proof of citizenship has print on the backside, which they normally do not, the acceptance agent will need a copy of the back side as well. This requirement does not apply if using a expired passport as your proof of citizenship.
Click Here for Frequently Asked Questions Regarding the New Requirements
---
Know Before You Go!
Appointments: Appointments are not necessary at any of the three locations.
Planning: Please arrive at Passport office 30 minutes before closing with the proper fees and documents. The cut-off for applications is 4:00pm daily.
Documentation: Most short (abstract) versions of birth certificates may not be acceptable for passport purposes.
Passport Photo: A passport photo can be taken on-site for $12 cash, debit or credit.
Fees:

Application Fee and any Optional Service Fees:

Personal checks (no temporary), money orders and bank drafts, payable to "Department of State"

Execution Fee:

There is a $35 Execution Fee, to be paid seperately by cash, debit or credit
Click Here for Passport Acceptance Office Locations and Hours
---