Constable Tracey L. Gulley worked as a Deputy Constable for Dallas County for more than 20 years. She worked her way through the ranks and excelled in every position. Constable Gulley's vast experience was ideal in her becoming the first African American Female Constable in Dallas County.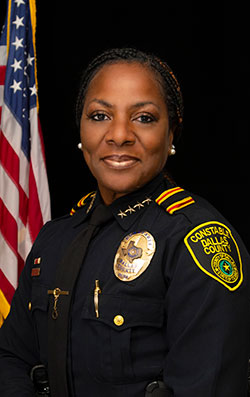 Precinct 1 is the largest and busiest precinct in Dallas County, and Constable Gulley's goal is to provide the most effective and efficient service for the citizens of Precinct 1 Dallas County.
Constable Gulley is a proud graduate of the Dallas Independent School District and has received many law enforcement certificates and awards. She has received numerous civic and professional law enforcement awards. These include but are not limited to the following:
Dream Believe Achieve Succeed Award
Bill Black Wood Law Enforcement Management Institute of Texas Award
Chief Don Stafford Law Enforcement Award
VFW Post 1406 Law Enforcement Gold Metal Award
The Living Legend Award/2017 Black Heritage First African American Female Constable
Certificate of Appreciation Pemberton Hill/Trinity Forest Neighborhood Association
Constable Gulley is the proud mother of two daughters, Brittany and Amayia. Brittany is a graduate of Skyline High School and attended University of Houston. Constable Gulley and her family attend the Inspiring Body of Christ Church.
Constable Gulley will ensure to bring honor to the profession and build trust, confidence and respect with the communities and neighbors we serve.
Constable Gulley's motto for Precinct 1 is that "We are One on One with Precinct 1 Working Together to Get the Job Done".