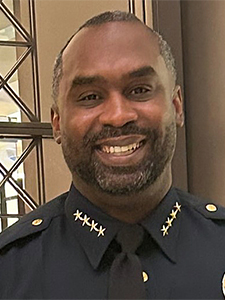 Constable Eddie Brown Jr. is a longtime resident of Dallas County.  He has a mother with Marshall, Texas roots and a father with Navasota, Texas roots.  Growing up his older brothers and his parents were his heroes.  His father was in law enforcement and at an early age he decided he wanted to pursue a career in criminal justice and follow in his father's footsteps.
Constable Brown's criminal justice career began as a Parole Officer with the Texas Department of Criminal Justice where he supervised high risk ex-offenders and assisted with programs rehabilitating ex-offenders. Later, he worked as a Patrol and School Resource Officer for the Plano Police Department for nearly 15 years. 
Constable Brown is a graduate of Duncanville High School and holds a Criminal Justice degree from The University of North Texas in Denton.  He enjoys spending time with his family and being the father to his two children.  He encourages them to always pursue your dreams to the fullest.  He also enjoys fishing and restoring old cars.