About Dr. Theresa Daniel, Dallas County Commissioner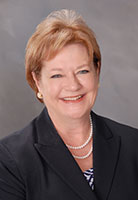 Commissioner Daniel was first sworn in on January 3, 2013, and re-elected in 2016 and 2020, to represent the citizens of Dallas County Road & Bridge District 1. The newly drawn district voted on in 2021 encompasses some of the most diverse, vibrant, and culturally rich parts of several cities in Dallas County - Balch Springs, Dallas, Garland, and Mesquite.
Commissioner Daniel was appointed as Chair of the IT Governance Committee, is one of three members of the Dallas County Civil Service Board, is Co-Chair of the Dallas County Behavioral Health Leadership Team, and a member of the Dallas County Finance Committee.  As an extension of addressing the mental health needs of Dallas County residents, the commissioner is spearheading an effort to develop transitional housing for special needs populations and has created a Dallas County Housing Work Group. She was recently appointed as the Vice chair of the Dallas Area Partnership to End Homelessness. As a regional partner in transportation, Dallas County has two seats on the Regional Transportation Council, with Dr. Daniel representing the County in one of those seats. She was recently elected on the leadership team of that body serving as its Chair in 2021-22.
Commissioner Daniel's swearing in coincided with the start of the Texas 83rd Legislative Session. She has testified before committees on topics important to residents of Dallas County, such as the distribution of funds for emission control programs and increasing mental health funding. Other statewide responsibilities include an active membership on the Texas Conference of Urban Counties Public Policy committee, as well as being co-chair of an organization addressing local environmental interests affecting public health, the Texas Clean Air Alliance. More recently, TxETRA, a statewide organization focusing on Texas Electric Vehicle use by public entities was inaugurated with Dr. Daniel from Dallas County and Commissioner Roy Brooks of Tarrant County heading up the North Texas effort.
Joining with counties throughout the US, Dr. Daniel learns about county work through the National Association of Counties (NACo). There she is on the Health Human Services and Education Committee where she was appointed to the Resilient Counties Advisory Board, and is a Large Urban County Committee board member.
Commissioner Daniel has extensive expertise in public affairs, economic development, housing, transportation, education, gerontology and local political thought.  Having obtained a Ph.D. in public policy and public administration, she has studied the theories of public administration.  Dr. Daniel has been a social science researcher and involved in public organizations for over three decades, therefore, she also understands the practical side of public service. Professionally, she served as a U.S. Congressional staff member, worked with the American Red Cross and focused on public education for many years.  Prior to her election to Commissioners Court, Dr. Daniel worked with the Dallas Independent School District in program evaluation and accountability and was also an adjunct professor of urban and public affairs at UT-Arlington.
Dr. Daniel has a long track record of community service with groups such as the League of Women Voters, LULAC and the NAACP, local neighborhood associations and civic organizations, and her local church and school. Dr. Daniel lives in the White Rock Lake area. In her off time, Commissioner Daniel enjoys spending time with her three grandsons, walking her ultra-friendly Australian Shepard Willie J, and listening to live jazz and blues.
---
Theresa Daniel, Dallas County Commissioner Accomplishments
Took on fair share of work load
Chair of IT Committee

Actively involved in software development process for revamping various court management systems

Co Chair Behavioral Health Leadership Team

Actively involved in next steps of community mental health care delivery

Co Chair Civil Service Committee

Complement members to arrive at fair decisions based on the facts
Reviewing basis for salary structure inter- and intra-department

Active in statewide county administrative organization, Conference of Urban Counties

Particular interest in TechShare, coordinated multi-county software development project
Testified at legislative committee hearings on behalf of Dallas County
Became familiar with all aspects of county work
Visited every county office in the district to meet staff and observe firsthand how work was done – tax office, JP courts, etc.
Met with departments at their offices for hands-on introduction of work performed – DA's office, forensics, Mosquito traps, the new Parkland, Elections and Community Organizations of Public Health
Met with member cities to work cooperatively on public works and trails projects in preparation for FY 2013 budgets
Tour buildings to become aware of space utilization and maintenance needs
Read, Read, Read
Kept campaign promises
Set up constituent service process and record keeping
Selected and appointed all possible district appointments with last one in process
Made board appointments as capable and diverse as district
Asked for participation at court meetings from every part of district through invitations for invocation
Used past experiences to bring people together so that all sides are better informed and use combined resources more efficiently, e.g. Juvenile department academic leaders and school district higher education and career directors
Staffed and set up two offices reflecting diversity and new directions of district
Formed links between citizens and local government through internship programs with high school- and college-level students
Conducted Town Hall meeting for entire district as introduction and community education
Continual outreaching to all geographical parts of the district as well as all constituent groups – regional LULAC meeting at Eastfield College-Pleasant Grove campus, South Asian Academic presentation, Richardson Chamber of Commerce member orientation, Ferguson Road Initiative neighborhood meeting, Visit with Garland NAACP; Sponsored the Lake Highlands FunRun benefiting a piece of the White Rock Trail
Presented resolutions to recognize a 30-year employee's retirement, Women History Month based on local women accomplishments, 100th Anniversary of Children's Hospital, LGBT Pride Month and many others.
Have fun:0)