Elder Financial Safety Center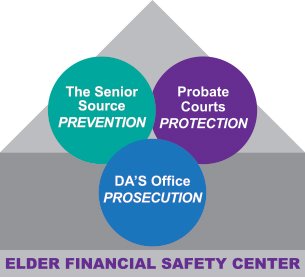 A unique, first of its kind center designed to address all aspects of an older adult's financial security.

THREE Dallas County entities
• The Senior Source
• Probate Courts
• District Attorney's Office
have come together to ensure the financial security of older adults
in a comprehensive and systematic manner.
Financial safety is the "gateway" issue to public safety for older adults. It affects housing, health choices, transportation, property crime, fraud and exploitation. The Elder Financial Safety Center ensures the safety of older adults through:
PREVENTION: Financial safety services including money management, fraud advocacy, budgeting, benefits and insurance counseling and employment services.
PROTECTION: Guardianship services for those requiring assistance and annual in-home monitoring of care.
PROSECUTION: Investigation and prosecution of elder financial abuse and exploitation, and education and training for law enforcement.
If you are an older adult seeking help to increase your income or decrease your expenses, or you have been the victim of financial fraud or exploitation, or you know of an incapacitated older adult in need of guardianship protection, the Elder Financial Safety Center can help.