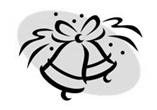 Wedding Ceremonies
Judge Whitfield will be pleased to perform your wedding ceremony in accordance with your faith. Ceremonies are performed in English or en Español. You may also schedule the Judge to perform your ceremony at physical locations other than the Courthouse.
Monday thru Friday from 10:30a-3:30p:
$80 CASH ONLY - By appointment
$100 CASH ONLY - Walk-in

Saturday and Sunday Ceremonies:
Please Call the Court

Travel Required Ceremonies:
Please Call the Court
For fee information and to make reservations for the date, time and place you will require her services, please call (972) 285-5429. 
THIS OFFICE DOES NOT ISSUE MARRIAGE LICENSES OR CERTIFIED COPIES OF MARRIAGE LICENSES.