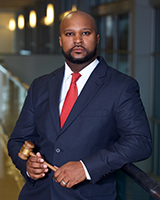 Judge Michael Jones Jr is the Presiding Judge of the Justice of the Peace Court located in Precinct 4. He was elected as Justice of the Peace for Precinct 4- 1 in 2018. Judge Jones has over 25 years' experience in City Government, Real Estate, and Higher Education. He also has a background in project management, property management, municipal budgets, departmental reorganization, and civil contracts.
As a small business owner, he is the Broker and President for a Real Estate brokerage that focuses on Commercial and Residential Real Estate. Judge Jones experience in property management lead him to manage approx. 1,200 government owned properties including tax foreclosures and various non-profits. Judge Jones is a professor with the Dallas County Community College District, teaching courses in Business and Real Estate. Additionally, he is a licensed instructor who teaches courses in Commercial Real Estate through the Texas Real Estate Commission and Texas Realtors Association.
Judge Jones previously served as the Mayor Pro Tem for the City of Glenn Heights, Director for Glen Heights Improvement Corporation, Board Member for the City of Wilmer Type A Economic Development Board, and the Criminal Justice Chair for the NAACP in Grand Prairie. He currently serves as a board member for the Texas Association of Realtors Housing Opportunity Foundation (Fair Housing Committee) and on the University Alliance Committee for CCIM North Texas Chapter.
Judge Jones has a Master's Degree in Management and Public Administration, Bachelor's in Applied Arts and Sciences, Associate Degrees in Criminal Justice and Real Estate, and a Certification in Dispute Resolution/Mediation.