DO NOT email the court for a wedding appointment. Please CALL the court to schedule/confirm an appointment.
---
ATTENTION: If you have tested positive for Covid-19, have symptoms or have been in contact with another person who has symptoms or has tested positive for Covid-19, inform the court via telephone at 214-943-6980 or by email at jp51court@dallascounty.org.
If you need to appear for your hearing electronically or by phone due to Covid-19 illness or exposure, please contact the court.
The court is open Monday - Friday from 8:00am- 4:00pm.
ATENCIÓN: Si ha probado el positivo para Covid-19, ha sentido síntomas o ha estado en contacto con otra persona que tiene síntomas o ha probado positivo para el Covid-19, informe al tribunal por teléfono al 214-943-6980 o por correo electrónico jp51court@dallascounty.org.
Si necesita aparecer para su audiencia electrónicamente o por teléfono debido a la enfermedad o la exposición, contacte con la corte.
La corte está abierta lunes - viernes desde 8:00am- 4:00pm.
---
The Justice of the Peace Courts in Dallas County hear thousands of cases each year and millions of dollars in fines and costs are collected that benefit the taxpayers of Dallas County and the State of Texas.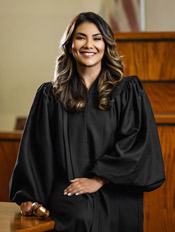 Judge Martinez was elected in 2014. She holds a Bachelor of Arts in Chicano Studies from Loyola Marymount University and a Juris Doctorate from the University of Southern California School of Law.
Born and raised in the Rio Grande Valley in South Texas, Judge Martinez is the youngest of six children. As the daughter of migrant farmworkers, she learned the value of hard work and the importance of education.
Prior to her election, Judge Martinez ran a successful solo law practice in the areas of criminal and family law. She also served as a Dallas County Public Defender. She currently resides in Oak Cliff.
Judge Martinez presides over evictions, small claims, debt claims, and traffic matters.