YOU ARE REQUIRED AT ALL TIMES TO:
Maintain 6 feet of distance away from all others (that's about 2 arms lengths).

Wear a face mask or cloth to completely cover your mouth and nose.
YOU MUST INFORM THE COURT
If you have symptoms of COVID-19 or have been close to another person who has symptoms of COVID-19 or has tested positive for COVID-19.
---
Justice of the Peace 5-2
Beckley Courthouse – 410 S. Beckley Avenue, Dallas, Texas 75203
(214) 943-5981 Main • (214) 943-3695 Fax
Office E-mail: JP52Court@dallascounty.org
Hours of Operation 8:00am - 4:00pm, Monday - Friday
Se Habla Español
CLICK HERE to look up a Justice of the Peace Precinct by Address
Representing Yourself in Court
The following information is not legal advice and does not take the place of a lawyer.
---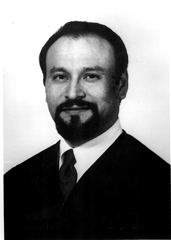 JUDGE JUAN JASSO was elected Justice of the Peace in 1995. He has a B. A. Degree in Government from Pan American University (1980-Edinburg, Texas) and a J. D. Degree from the University of Houston School of Law (1986).
He was born and raised in the Rio Grande Valley in South Texas. Judge Juan Jasso was an migrant farm worker until he attended college. He is married to Delia, and they have two children, Eric and Laura. They reside in the Oak Cliff area of Dallas.
Judge Jasso combines his legal background with a common sense approach to appropriately render fair and just decisions in his Court. He treats everyone with respect and proper decorum so that they will feel they were given every opportunity to represent themselves in court.