Judge Cheryl Lee Shannon, Chairperson
305th District Court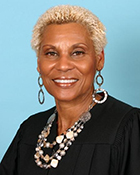 Hon. Cheryl Lee Shannon has been a District Judge in Dallas County for the past thirteen years, presiding over the 305th District Court hearing juvenile matters, child abuse and neglect cases and a myriad of matters relating to parental termination/adoption issues. She was formerly an Associate Judge in Dallas County for both the 304th and 305th District Courts and held this position for four years before being elected to the Bench.
Judge Shannon graduated from the University of Houston with a degree in Political Science in 1979 and from the University of Houston Law Center in 1982. Upon completion of Law School she worked in

various areas of the legal profession including real estate, corporate and family law.
Judge Shannon currently serves as the Chairman of the Dallas County Juvenile Board, President of the Dallas County Charter School Board, Chairman of the Texas Juvenile Probation Commission, is a member of the State Bar of Texas Juvenile Justice Committee and has recently been appointed by the Supreme Court of Texas to serve on the Judicial Commission for Youth, Children and Families. She has formerly served as a Board Member of Texas CASA, Board Member of Texas School Safety Center Board, Supreme Court Task Force of Foster Care and Committees relating to Youth Issues that are too numerous to name. She is active member of the Juvenile Section of the Dallas Bar Association and has served on the Nominations Committee for the Judicial Section of the State Bar of Texas. She has been recognized by Dallas CASA and many local civic organizations for her commitment to children.
Judge Shannon has been a previous presenter to the Advanced Family Law Course in 2004 – "Kinship – The Ties that Bind" replicated by the Dallas Bar Association and Juvenile Law Conference in 2005 and 2006 respectively and Advanced Family Law Course in 2007 – Gestational Agreements, Termination and Adoption. Judge Shannon is a frequent presenter in Dallas County in Seminars and Conferences relating to Juvenile Law and Child Abuse and Neglect Matters.