** PLEASE NOTE:  No credit/debit card payments will be processed onsite after 4pm. **
Justice of the Peace 2-1
Garland Office – 140 N. Garland Avenue, Garland, TX 75040
(214) 643-4773 Main | (214) 643-4772 Fax
Office E-mail: JP21Court@dallascounty.org
The office is staffed 8:00 am to 4:30 pm
The office is open to customers in person 8:00 am to 4:00 pm
Se Habla Español
www.judgemo.org
Texas Rules of Civil Procedure, Part V Rules of Practice in Justice Court
Texas Civil Practice and Remedies Code, Chapter 15
Texas Rules of Evidence
---
IMPORTANT INFORMATION FOR FILING COURT DOCUMENTS
The health and safety of our customers and employees is our priority to avoid further spread of COVID-19. Due to the backlog of cases, high volume of filings and new processes to conduct business, there will be some delay.
We are now issuing birth certificates by appointment only. Please call us to schedule your appointment 214-643-4773.
We are now open to in-person filings but still encourage customers to file documents via mail, email or fax. In addition, we have a drop box located at the front window of our lobby to drop off payments or filings. Please make sure to call when items are left in the drop box so we can locate your items the day of drop off. Motions and some hearings continue to be conducted by telephone or by computer conference. If you meet the criteria of vulnerable population*, you may request a teleconference or web based hearing.
Please contact the Chief Clerk in regards to urgent hearings such as writs; other matters requiring immediate attention, or to schedule a marriage ceremony.
Thank you for your patience & understanding,
Judge Margaret O'Brien
* Vulnerable individuals are those over age 65 and individuals with serious underlying health conditions, such as high blood pressure, chronic lung disease, diabetes, obesity, asthma, and those whose immune systems are compromised, such as by chemotherapy for cancer or other conditions requiring such therapy.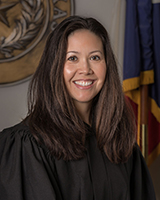 Judge Margaret O'Brien was elected to serve in 2018. She attended Stephen F. Austin State University earning her BS in Chemistry.  She later obtained her MS in Environmental Science from the University of Texas Health Science Center.  For nearly a decade, she worked as an Industrial Hygienist for Amoco, Motorola and Texas Instruments. In 2004, she became a small business owner.  She is a licensed real estate broker, Certified Commercial Investment Member (CCIM), and has a Graduate Certificate from Southern Methodist University in Dispute Resolution/Mediation.
Judge O'Brien was born in Winnipeg, Manitoba, Canada and has lived in Texas since 1976.  She hears criminal and civil cases under $20,000 which include small claims, repair and remedy, evictions, debt claims, traffic tickets, fraudulent checks and fine-only misdemeanors. Judge O'Brien understands the struggles of everyday life and is honored to serve the people of Precinct 2 (part of East Dallas, Balch Springs, Garland, Mesquite, Rowlett, Sachse, Sunnyvale, and Wylie).  She pledges to listen carefully, treat everyone with respect and fairness, and make sure all have access to affordable justice.