Fair Park Vaccine Operations Update
Open Monday (4/17) to Saturday (4/24) from 8am-5pm
Enter through Gate 2 or Gate 10

Friday (4/16) – CLOSED due to weather
Saturday (4/17) – Pfizer (First and Second Doses)
Sunday (4/18) – CLOSED
Monday (4/19) – Pfizer (First and Second Doses) & Moderna (Second Doses only)
Tuesday (4/20) – Pfizer (First and Second Doses)
Wednesday (4/21) – Pfizer (First and Second Doses)
Thursday (4/22) – Pfizer (First and Second Doses)
Friday (4/23) – Moderna (First and Second Doses)
Saturday (4/24) – Pfizer (First and Second Doses)
Sunday (4/25) – CLOSED

You must have received your first vaccine dose at Fair Park to receive your second dose here. Please bring your vaccination card when returning for your second dose. Appointments are required for everyone under 60 years old. If you are taking a driving service like Uber or Lyft to the Fair Park site, you should be dropped off at the Fair Park DART station. A bus will bring you into the vaccination site.
Actualización de operaciones en el centro de vacunaciones en Fair Park
Abierto de Lunes (4/17) a Sábado (4/24) de 8am-5pm
Ingrese por la puerta 2 o la puerta 10

Viernes (4/16) – CERRADO debido al clima
Sábado (4/17) – Pfizer (Primera y Segunda dosis)
Domingo (4/18) – CERRADO
Lunes (4/19) – Pfizer (Primera y Segunda dosis) & Moderna (Segunda dosis solamente)
Martes (4/20) – Pfizer (Primera y Segunda dosis)
Miércoles (4/21) – Pfizer (Primera y Segunda dosis)
Jueves (4/22) – Pfizer (Primera y Segunda dosis)
Viernes (4/23) – Moderna (Primera y Segunda dosis)
Sábado (4/24) – Pfizer (Primera y Segunda dosis)
Domingo (4/25) – CERRADO

Debe haber recibido su primera dosis de vacuna en Fair Park para recibir su segunda dosis aquí. Traiga su tarjeta de vacunación cuando regrese para su segunda dosis. Se requiere cita para todos los menores de 60 años. Si está tomando un servicio de conducción como Uber o Lyft hasta el sitio de Fair Park, debe dejarlo en la estación de Fair Park DART. Un autobús lo llevará al sitio de vacunación.
Potter's House Vaccine Operations
Open on Wednesday, Thursday, Friday, and Saturday from 9am-6pm
Potter's House will be distributing the Moderna vaccine only.

Operaciones de vacunación de Potter's House
Abierto los Miércoles, Jueves, Viernes y Sábados de 9am-6pm
Potter's House distribuirá únicamente la vacuna Moderna.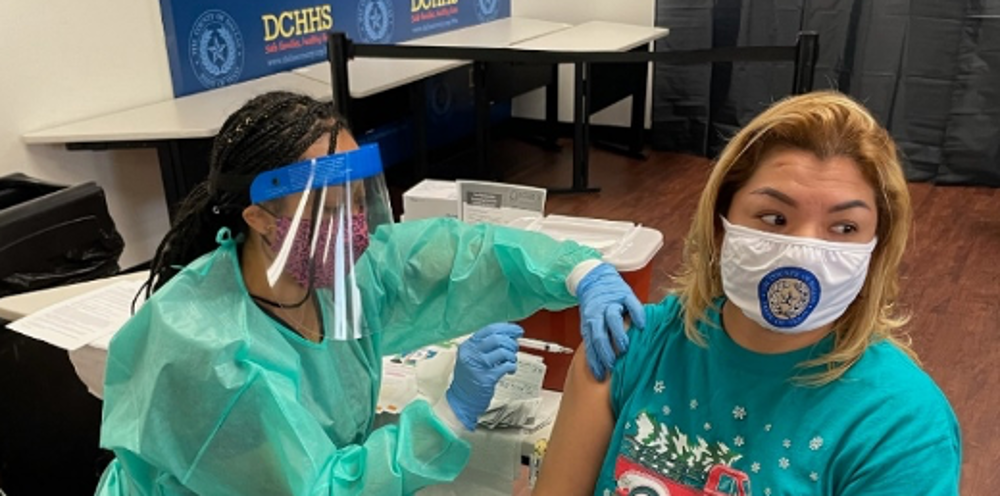 Who is eligible for a vaccine?
As of Monday, March 29, 2021, everyone age 16 and older is now eligible to receive a COVID-19 vaccine in Texas. We strongly encourage all eligible residents to register for a COVID-19 vaccine.
The state's Expert Vaccine Allocation Panel recommended opening vaccination to everyone who falls under the current Food and Drug Administration emergency use authorizations. All vaccines are authorized for people age 18 and older. The Pfizer vaccine is authorized for people 16 and older.
Depending on vaccine supply and allocations, Dallas County Health and Human Services (DCHHS) may administer the Pfizer, Moderna, or Johnson and Johnson (J&J) vaccine. Please check the schedule above to see which vaccine we are offering on any given day.
In order to receive a vaccine from DCHHS, you must first register on the waitlist. You will receive a confirmation number following registration. When you are eligible and there is supply, DCHHS will email and/or text you an invitation to schedule an appointment.
If you are 75 and older, you do not need an appointment for a vaccine at our Fair Park location. Please come during normal operating hours (see schedule above). Bring a photo ID showing your birthdate. Use Gate 2 or Gate 10 and staff will direct you to a location to register on-site.
How to register for a vaccination from DCHHS?
Register Online:
Appointment invitations are sent via text and email. Please provide a valid cell phone number and email when submitting your registration form.
Register by Phone:
1-855-IMMUNE9 (855-466-8639)
The hours are 7am - 7pm, 7 days a week.
There will be call takers available to register people in English and Spanish.
Information collected in the registration process will not be used for any other purpose other than scheduling your vaccination and the information collected is the minimum amount of data required to effectively prioritize registrants.
What happens after I register for the vaccine?
Dallas County provides a list of eligible registrants to various State vaccine hub providers. You may be contacted by one of the other State hubs to schedule your vaccine appointment, based on vaccine eligibility and supply. Each of those entities uses their own system to schedule appointments. For example, if you receive notice to schedule an appointment by the City of Dallas, they have their own scheduling system that is separate and unique from Dallas County's. Most entities are scheduling appointments and are not taking walk-ups. If you are not contacted directly by one of these entities, and instead you receive a link from a friend or family member, you likely do not have a valid appointment and will not be given a shot.
For questions about appointments from DCHHS through Luminare or vaccinations at Fair Park, please call the DCHHS COVID Hotline at 972-692-2780 or email CovidVaccine@DallasCounty.org.
For questions about appointments at the Potter's House Church, you can review the City's Frequently Asked Questions or contact the City of Dallas at Dallasvaccinationquestions@gmr.net.
What documentation do I need to get the vaccine?
You will need to provide a photo ID, such as a driver's license, passport, work ID, parish ID, library card, or other form of photo ID.
Do I need to be a U.S. citizen in order to receive the vaccine?
No. The vaccine is available to anyone who wants it. No questions about citizenship status will be asked.
How do I get my second dose?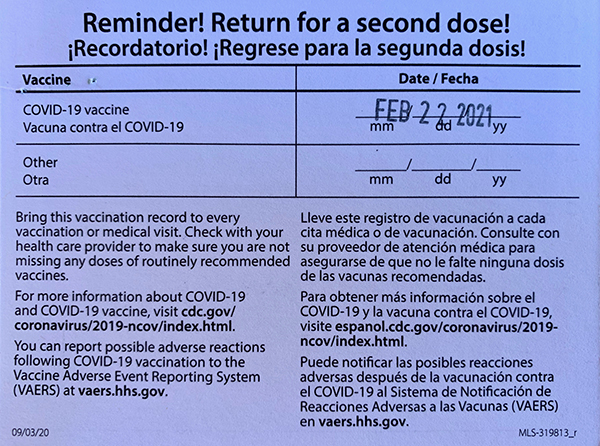 If you received your first COVID-19 vaccine dose through Dallas County Health and Human Services (DCHHS), you are eligible for your second dose through DCHHS. We will send you an email and/or text message to schedule an appointment for your second dose. To streamline operations, we are only providing second doses of the Moderna vaccine and the Pfizer vaccine on certain days. Please check our website for updated information on what days those vaccines are available. You also received a vaccination card when you received your first dose that included the date you need to come back for your second dose. If the date listed is not a date we are offering second doses of that particular vaccine, please come on the next available date that vaccine is available.
Where else can I receive a COVID-19 vaccine?
Hundreds of locations across Texas receive weekly vaccine allocations from the state and federal government. A full list can be found here. It is expected that people will be able to get COVID-19 vaccinations from their doctor, local pharmacies, hospitals, and other places that normally provide vaccines for the public once vaccine supply increases.
In North Texas, there are several state vaccination hubs that offer vaccines to anyone regardless of residency. Many have waitlists and registration systems similar to Dallas County's.
List of State Vaccination Hubs
Additionally, the State of Texas has launched the Texas Public Health Vaccine Scheduler which helps Texans get scheduled for a COVID-19 vaccine at clinics hosted by participating Texas public health entities.
Register online at GetTheVaccine.dshs.texas.gov. You will be notified by email or text when and where to get the vaccine. If there's not an available clinic near you, you will be directed to other places to get your vaccine. Call (833) 832-7067 if you don't have internet or need help signing up. Call center support is available 7am-7pm, 7 days a week. Spanish language and other translators are available to help callers.
What is the status of the COVID-19 vaccines that are being developed?
There are currently several vaccines under development. The FDA has granted an Emergency Use Authorization (EUA) to the Pfizer, Moderna, and Johnson & Johnson vaccines and may choose to give other vaccines the same approval based on the careful review of the safety data. Additional COVID-19 vaccines in development are expected to be available in 2021.
How effective are the approved vaccines?
Two COVID-19 vaccines (produced by Pfizer and Moderna Therapeutics), report being 95 percent effective.
How will we know these COVID-19 vaccines are safe?
The U.S. Food and Drug Administration has a known and proven process for the verification of vaccines, and while these COVID-19 vaccines have been made available quickly, no step in the safety and efficacy process was skipped. The FDA issued EUAs for the first COVID-19 vaccines, only after enough scientific data was shown to indicate the vaccines safety and efficacy in a clear and compelling manner.  
The current vaccines, even those with EUAs, continue through a trial phase, where they are tracking their volunteers to learn more about the long-term outcomes of taking the vaccine.
Can the vaccine give you the virus?
None of the COVID-19 vaccines authorized for use in the United States contain the live virus that causes COVID-19, which means they cannot give someone COVID-19. You may experience symptoms after receiving the vaccine. This is a normal response and is a sign that the body is learning to recognize and is building protection against the virus that causes COVID-19.
It is possible for someone to be infected with COVID-19 prior to receiving the vaccine and thus they would be contagious and could still test positive on a COVID-19 diagnostic PCR, or rapid test. It is also possible a person could be infected with the virus that causes COVID-19 just after vaccination and still get sick. This is because it typically takes a few weeks for the body to build immunity (protection against the virus that causes COVID-19) after vaccination. An uninfected vaccine recipient however would not test positive on a PCR or rapid test but could test positive on an antibody-based test.
What companies are manufacturing the COVID-19 vaccine, and how are the vaccines different?
| | | |
| --- | --- | --- |
| Vaccine Manufacturer | Technology | Dose & Interval |
| Pfizer | m-RNA | Two doses 21 days apart |
| Moderna Therapeutics | m-RNA | Two doses 28 days apart |
| Johnson & Johnson | Viral Vector (non-replicating) | Single dose |
Will there be enough COVID-19 vaccine for everyone?
Though the initial supply of the COVID-19 vaccine will be limited, additional doses of the vaccine will be available as manufacturing and distribution ramp up. Initial doses are being allocated for critical populations, including health care workers, other essential workers, and people more likely to develop severe disease, like older adults and those with underlying health conditions.
COVID-19 Vaccine Allocation Guiding Principles and Health Care Workers Definition
Do I need a vaccine if I already had COVID-19?
Yes. The vaccine is recommended for people who previously have been infected with COVID-19. Vaccination of persons with current SARS-CoV-2 infection should be deferred until the person has recovered from acute illness and they can discontinue isolation. While there is no minimum interval between infection and vaccination, current evidence suggests reinfection is uncommon in the 90 days after initial infection. Persons with documented acute SARS-CoV-2 infection in the preceding 90 days may delay vaccination until near the end of this period, if desired.
Can I choose which vaccine I want to take?
Perhaps, when the supply of vaccines from all manufacturers becomes readily available. The vaccines will roll out across the country as they are approved for use by the FDA. Once there are multiple vaccines available, you will be able to inquire with providers to see which vaccine they have on hand, but individual providers may offer or only make one vaccine option available. 
Once people start taking the COVID-19 vaccine, will we need to keep wearing masks and social distancing?
Until a vast majority of the public is inoculated with the vaccine, and more is learned about the immunity produced by the vaccines, people need to continue the current preventative measures to stop the spread of the virus. While the vaccine is the most important tool in controlling the pandemic, it is not a magic bullet that can end the pandemic right away. However as more and more people get the vaccine and/or develop natural immunity, we will get to the point where masks and social distancing are no longer needed.
Can my child get the COVID-19 vaccine?
At this time, the Pfizer vaccine is authorized under the EUA for people aged 16 and older. The Moderna vaccine is authorized under the EUA for people age 18 and older.
Will the COVID-19 vaccines require special handling?
Each vaccine has different storage and preparation requirements. Public Health staff who handle vaccines are trained on storing, handling and preparing them safely to ensure the viability of every vaccine dose.
What will the COVID-19 vaccine cost?
The vaccine is free. Operation Warp Speed, a federal program, is paying all the costs associated with vaccinations.
Is getting a COVID-19 vaccine immunization mandatory?
COVID-19 vaccinations are voluntary, but we strongly recommend all eligible persons receive the vaccine.
How many doses of vaccine will I need?
It is important to understand which vaccine you are receiving. Both Pfizer and Moderna require two doses. The Johnson & Johnson vaccine only requires one dose.
How long do I have to wait between doses?
Depending on the vaccine you receive, there may be a 21-28 days between the first and second dose. When you receive the first dose, it is important that you wait for the designated time and then get the second dose. The effectiveness of the vaccine is highest when the doses are spaced appropriately. Information will be provided to everyone who receives the COVID-19 vaccine to ensure they receive the correct second dose.
Is there any proof we need to show if we've had a COVID-19 vaccine shot?
Those receiving COVID-19 vaccine will have the immunization noted on their official IMMTRAC vaccine record.