Joppa Preserve
Dallas, Texas, 307 Acres
| | |
| --- | --- |
| Entrances: | South of Loop 12, about 3/4-mile east of SH 310 before Trinity River |
|   | End of River Oaks, east of SH 310 (4911 River Oaks) |
| Mapsco: | 57, Section "W" |
|   | 67, Section "A" |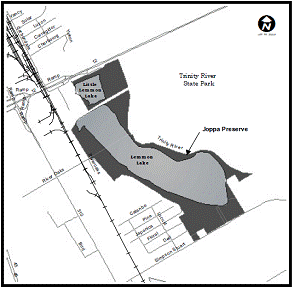 Preserve Features
This 307-acre Preserve contains a beautiful lake that is a major stopping point for migratory water birds, a smaller lake, woodlands, and open areas. It is also located on the five-mile-long Trinity Trail which is also connected to the Trinity River Audubon Center. The Preserve is popular with picnickers, bird-watchers, fishermen, hikers, and horseback-riders.
Preserve History
When the Preserve was first established in 1986, it was known as Lemmon Lake and contained 256 acres. In 1991, its name was changed to reflect "Joppa" which had been one of the first "Freedmen's" communities created in the County after the Civil War and which had previously existed near the Preserve's main lake. The Preserve continues to be a popular location for family reunions and "Juneteenth" celebrations.
Preserve Amenities
Paved parking is available at both the Preserve's Loop 12 entrance and River Oaks entrance. The City of Dallas has also provided the Preserve with picnic pavilions, tables, and grills, and its hard-surface Trinity Trail allows visitors to travel through the Great Trinity Forest, see the Trinity River, and reach the Trinity River Audubon Center.
Maintenance
Joppa Preserve is maintained by the City of Dallas. To report maintenance issues, please call the Dallas Parks and Recreation Department at (214) 671-0234.
Restricted Uses
The use of alcohol, motorized vehicles, fireworks, or weapons is not permitted within the Preserve. Hunting, swimming, and boating are also not permitted.