Elm Fork Preserve
Carrollton, Texas, 22 Acres
| | |
| --- | --- |
| Entrances: | 2430 Sandy Lake Road (located at end of road that leads into McInnish Park) |
| Mapsco: | 11B, Section "D" |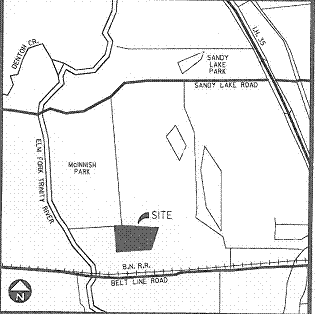 Preserve Features
The 40-acre Elm Fork Preserve is located within the City of Carrollton's McInnish Park sports complex. Twenty-two of the Preserve's acres are owned by the County, and eighteen are owned by the City. Although this Preserve is surrounded by one of the busiest outdoor athletic facilities in the Dallas area, its dense woods and vegetation and its view of an old Elm Fork meander from the Trinity River somehow manage to make you forget where you are.
Preserve History
A family of pioneers once used wood from this land for fuel to cook and to heat their house.
When the County began creating its open space system in the early 1980s, much of the County's northern half was already largely developed. This site was one of the few undisturbed wooded areas in the north that still remained. As a result, this was the first site that the County acquired during that decade.
Preserve Amenities
The City of Carrollton has provided the Preserve with an impressive array of amenities including paved parking, a one-mile natural surface trail, a 1/2-mile ADA trail, numerous benches and tables, and a building that can be used for meetings. It has also installed a well-designed series of educational signs that identify and explain many of the preserve's natural characteristics.
The City's McInnish Park, which is immediately adjacent to the Preserve, features restrooms, concession stands, hard surface trails, a canoe launch, and a playground.
Maintenance
Elm Fork Preserve is maintained by the City of Carrollton. To report maintenance issues, please call the City of Carrollton Parks and Recreation Department at (972) 466-3084.
Restricted Uses
Hunting and the use of alcohol, motorized vehicles, horses, fireworks, or weapons are not permitted within the Preserve.