Goat Island Preserve Trinity River Greenbelt
Goat Island Preserve Trinity River Greenbelt
Unincorporated Southeastern Dallas County, 501 Acres
The Belt Line Road entrance to Goat Island Preserve will be closed from January 23, 2023, through March 2023. The main entrance at Post Oak Road remains open.
| | |
| --- | --- |
| Entrances: | Post Oak at Fulghum Road (2800 Post Oak) |
|   | Northwestern corner of intersection of Trinity River and Beltline Road |
| Mapsco: | 79, Sections "E" and "J" |
|   | 79A, Section "T" |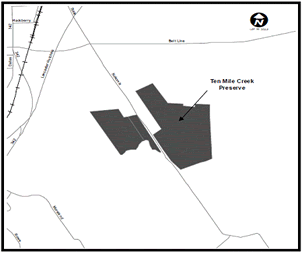 Preserve Features
Visitors to Goat Island Preserve can enjoy beautiful views of the Trinity River and experience the woods and wildlife that once extended several miles in either direction from the river.
Preserve History
Goat Island is named for one of two islands located in the Trinity River.
The remnants of a lock and dam that were part of an effort to make the Trinity River navigatible are visible at the Preserve's south end. This effort, which was never completed, was begun by the U.S. Corps of Engineers at about 1910 and was discontinued because of World War I.
Containing 501 acres, Goat Island is the second-largest preserve in the County's open space system and is part of the County's goal to create a continuous public open space corridor along the unincorporated Trinity River. When combined with the County's 518-acre Riverbend Preserve which is located just south of Goat Island, there are now eight miles of almost continuous river-front property that is accessible to the public.
Preserve Amenities
Paved parking is available at the north end of the Preserve at Post Oak/Fulghum Road. Thanks to the Dallas Off-Road Bicycle Association (DORBA), the Preserve currently possesses about eight miles of natural surface trails that can be used for off-road cycling, hiking, or running.
Maintenance
Goat Island Preserve is maintained by the County. To report maintenance issues, please call the County's Open Space Program at (214) 653-6653.
Restricted Uses
Hunting and the use of alcohol, motorized vehicles, fireworks, or weapons are not permitted within the Preserve.