Riverbend Preserve Trinity River Greenbelt
Riverbend Preserve Trinity River Greenbelt
Unincorporated Southeastern Dallas County, 518 Acres
| | |
| --- | --- |
| Entrances: | North of Malloy Bridge Road, either along ranch road on west side of river or inside guardrail on east side |
| Mapsco: | 90, Sections "A" and "B" |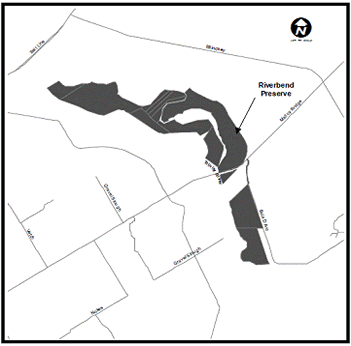 Preserve Features
Riverbend is the largest Preserve in the County's open space system, and along with its sister preserve to the north, Goat Island, Riverbend provides the public with eight miles of almost continuous river-front property.
Heavily-wooded, Riverbend contains ash, oaks, elms, hickory, and bois d'arcs and illustrates how this part of the County once looked. It is a perfect location for horse-back riding, wildflower exploration, nature study, or hiking through the wildnerness.
Preserve Amenities
There is no formal parking area at this time at the Preserve. Please park at the top of the levee outside the gate on the north side of Malloy Bridge Road. You must enter on foot. A series of old ranch roads provide visitors a path for hiking, biking, or horse-back riding.
Maintenance
Riverbend Preserve is maintained by the County. To report maintenance issues, please call the County's Open Space Program at (214) 653-6653.
Restricted Uses
Hunting and the use of alcohol, motorized vehicles, fireworks, or weapons are not permitted within the Preserve.