Grapevine Springs Preserve
Grapevine Springs Preserve
Coppell, Texas, 16 Acres
| | |
| --- | --- |
| Entrances: | South end of Park Street at W. Bethel Road |
|   | Coppell Senior & Community Center |
|   | 345 W. Bethel Road |
| Mapsco: | 11A, Section "A" |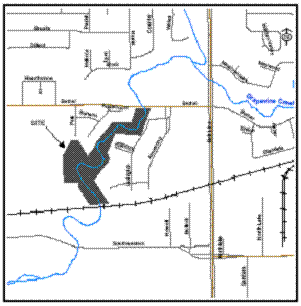 Preserve Features
Grapevine Springs is one of the most historic preserves in the County's open space system. While today, it is completely surrounded by urban development, in 1843, it was remote wildnerness, and it is where Sam Houston camped while he negotiated a peace treaty with local Native Americans.
In 1936, the Works Progress Administration turned the area into a public park and built the rock-lined channel, walls, flumes, bridge abutments, and paths that still exist.
Preserve History
The Preserve is named for the springs which continue to trickle into the rock-lined channel. Sometime in the 1940s, the property ceased being a public park and became privately-owned. In 1991, the Baptist Foundation of Texas graciously donated the property to the County, who, with the help of the City of Coppell, restored the park and re-opened it to the public.
Preserve Amenities
Besides the rock features that the WPA built over seventy years ago, the Preserve features picnic tables and cooking grills that have been provided by the City of Coppell as well as paved parking. The City's Senior & Community Center, which is located immediately adjacent to the Preserve, has restroom facilities and has been carefully designed to complement the Preserve's rock features.
Maintenance
Grapevine Springs Preserve is maintained by the City of Coppell. To report maintenance issues, please call the Coppell Park and Recreation Department at (972) 462-5100.
Restricted Uses
Hunting and the use of alcohol, bicycles, horses, motorized vehicles, fireworks, or weapons are not permitted within the Preserve.